Magical Bookshop Mystery, #4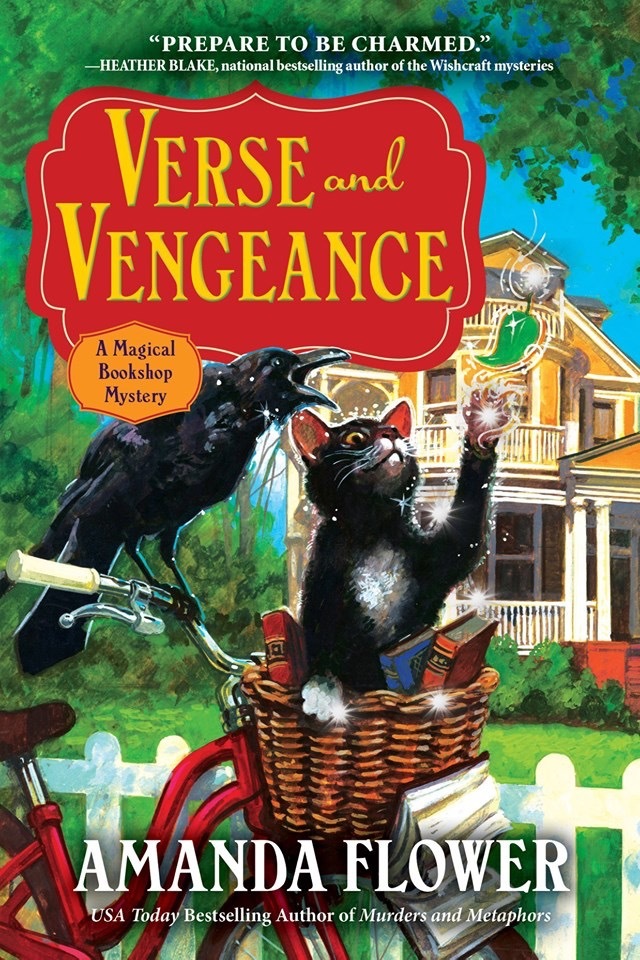 My Review
First, just let me say that I really love this cozy cover.
This is book 4 in the Magical Bookstore Mystery series. The MC is Violet Waverly and she is the current caretaker of the bookshop and the magical birch tree living inside of it. Women in her family have been the caretakers for ten generations. The bookshop is in the fictional city of Cascade Springs, not far from Niagara Falls.
Violet's grandmother Daisy is currently the mayor of Cascade Springs. To raise money to rebuild part of the Town Hall and set it up to house an Underground Railway Museum, Daisy plans a bike race. An investigator named Joel Redding (who gave Violet some trouble in a prior book) is back in Cascade Springs before the race and had been looking into Daisy and the bookstore.
On the day of the race, Joel decided to join the racers and ends up dead due to malfunctioning brakes on Breakneck Hill. Prior to the bike race, another man was killed and found in the waters below Niagara Falls. Due to connections with the two men, several locals are suspects, and Daisy fears she may be as well, due to the connection with Joel Redding investigating her and her bookstore. Daisy, of course, wants to prove those dear to her are innocent.
As with other murders in this series, Violet gets help from the bookstore, which sends her books to give her clues about the case. The book shared in this book is Walt Whitman's Leaves of Grass. So during the book, Amanda Flower shares some of the poet's writing and some bits and pieces about his life (some true and some fictional).
The mystery has some twists and turns and I didn't guess the murderer until they were revealed. I really felt it could have been a number of different people.
I like most of the recurring characters in this series and I like the feel of Cascade Springs. It's a place I would want to visit if it were real. I was also glad to see Violet and Detective David Rainwater's romance progress a bit 🙂 I look forward to reading book 5 when it comes out.
Goodreads Blurb
USA Today bestselling author and Agatha Award winner Amanda Flower turns the charm up to ten in her fourth Magical Bookshop mystery.
With the help of Walt Whitman's works, magical bookshop owner Violet Waverly puts her pedal to the metal to sleuth a bicycle-race murder that tests her mettle.
A bicycle race is not Charming Books proprietor Violet Waverly's idea of a pleasant pastime. But police chief David Rainwater wheelie wants them to enter the Tour de Cascade as a couple, so she reluctantly consents.
The Tour de Cascade is the brainchild of Violet's Grandma Daisy. The race is a fundraiser to build the Cascade Springs Underground Railroad Museum. But not everyone in this Niagara Region village supports the race. As if the bike race weren't tiring enough, pesky private investigator Joel Redding is snooping around Charming Books. It takes all of Violet's and Grandma Daisy's ingenuity to keep Redding from discovering the shop's magical essence–which communicates with Violet through books.
When Redding perishes in an accident during the race, David discovers that the brake line of the private eye's bike was cut. Worse, Violet tops his list of suspects. As Emerson the tuxedo cat and resident crow Faulkner look on, Charming Books steers Violet to the works of Walt Whitman to solve the crime. But no other names ring a bell as culprits, and as David's investigation picks up speed, Violet will have to get in gear to clear her name.
Where to Find More from Amanda Flower
Author Website | Goodreads | Facebook
Amanda Flower also writes the following series: Amish Candy Shop, Appleseed Creek, Magic Garden, and An Amish Matchmaker.
I have read most of Amanda's work. I haven't gotten to the Appleseed Creek or Magic Garden series yet, but they are both definitely on my TRB list. I love her writing voice and have enjoyed all her other books so far.