Book Retreat Mysteries, #8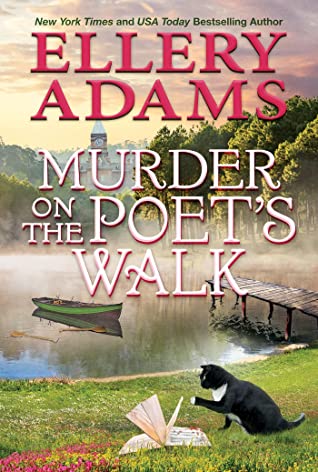 My Review
Book 8 in the Book Retreat Mystery series brings us back to Storyton Hall, a resort that specializes in events for book lovers and writers of all kinds. Jane Steward is the guardian of Storyton Hall. Storyton Hall and its grounds are full of libraries, reading spaces, gardens, and more which all have literary names.
For those familiar with the series, you'll find all the familiar characters. Aunt Octavia, Uncle Aloysius, the twins Hemmingway and Fitzgerald, the Cover Girls, the Fins (protectors of Storyton Hall), Edwin, and Mrs. Hubbard. In this book, it seemed to me there were more Cover Girls/friends of Jane in this book than I recall in prior installments. For me, there were almost too many to keep distinguished.
Aside from the mystery, there are some happy times in this book and some sad. I won't go into it since it would give too much away. All circumstances are part of our everyday lives, so it helped us get to know the characters a bit more.
I thought the mystery was well done and I really liked the characters that were brought in to be the possible suspects. I found the greeting card competition entertaining and thought-provoking to consider in real life. It also helped provide a believable influx of people who I could believe were capable of being the culprit(s). I had a hard time deciding which one of them I hoped would be the killer. I always like it when that happens.
Since I am not a big reader of poetry (I like it, I just don't read it often), I didn't understand all the references. I did look up and read some of the poems mentioned which I thoroughly enjoyed. That said, I did feel a bit bogged down here and there with all the poetry references, but it didn't really keep me from enjoying the main story. As with all the books in the series, Ellery Adams's love of reading is evident. I was also intrigued by the imagery portrayed at the murder scenes.
It was also nice to see the growth in the characters. Everyone getting older and how their life changes as that happen. I will miss the younger Hem and Fitz though. But, as expected, they are still adorable and two of my favorite characters.
I already look forward to the visit to Storyton Hall and hearing more about the characters, especially those in the family and the Fins. I want to know what changes happen with the secret library and how it affects Storyton as a whole. Thank you to Ellery Adams, Kensington Books, and Netgalley for the advanced copy. All comments and thoughts about the book are my own.
#MurderonthePoetsWalk #NetGalley
Goodreads Blurb
When corpses clutching poems begin turning up around Storyton Hall, resort manager Jane Steward is on the trail of someone exercising poetic license to kill . . .
As Jane eagerly anticipates the wedding of her best friend Eloise Alcott, Storyton Hall is overrun with poets in town to compete for a coveted greeting card contract. They're everywhere, scrawling verses on cocktail napkins in the reading rooms or seeking inspiration strolling the Poet's Walk, a series of trails named after famous authors. But the Tennyson Trail leads to a grim surprise: a woman's corpse drifting in a rowboat on a lake, a crumpled copy of "The Lady of Shallot" in her lifeless fist.
When a second body is discovered, also holding a page from a poetry book, a recurring MO emerges. Fortunately, Jane is well versed in sleuthing and won't rest until she gives the killer a taste of poetic justice.
How to Find More from Ellery Adams
Author Website | Goodreads | Twitter | Pinterest
Other books written by Ellery Adams (some originally released under different names)*
Book Retreat Mysteries, Books by the Bay Mysteries, Charmed Pie Shoppe Mysteries, Antiques and Collectibles Mysteries, and Hope Street Church Mysteries.
*As of this posting, I have read all of these and anxiously await any new installments 🙂