The Secret, Book & Scone Society, #2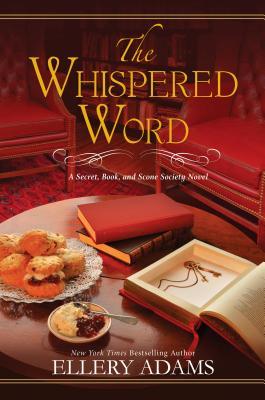 My Review
Nora owns a book store in Miracle Springs, North Carolina. She's part of the Secret, Book and Scone Society, along with Hester, June, and Estella. 
I read the first book in this series and enjoyed it, but for some reason, I wasn't expecting the emotional ride this one would take me on.  I was expecting a solid mystery intertwined with a good story.  This book had that, and more. 
For one, Abilene's story really moved me, from before and after Nora finds her hiding in her bookstore. But it was the various relationships and what they go through in this book that really got to me. Such as, the depth the ladies in the Society share their lives with each other and have each other's backs, learning more about Nora's boyfriend Jedediah's past, and the stories about the people Nora helps with her bibliotherapy "magic", too.
I have plenty of nice things to say about this one, but I'm afraid I'd give too much away if I continue on. This one made me wish I was part of a book club, so I could talk to them about it with them. I'd definitely recommend it as a book club read.
I am very much looking forward to book number three.
I received an advanced digital copy of The Whispered Word by Ellery Adams from NetGalley and Kensington Books in exchange for an honest review. 
Goodreads Blurb
In New York Times bestselling author Ellery Adams' intriguing new Secret, Book, and Scone Society novel, Nora Pennington and her fiction loving friends in small-town Miracle Springs, North Carolina, encounter a young woman desperately in need of a new beginning . . .

Nora Pennington, owner of Miracle Books, believes that a well-chosen novel can bring healing and hope. But she and the other members of the Secret, Book, and Scone Society know that sometimes, practical help is needed too. Such is the case with the reed-thin girl hiding in the fiction section of Nora's store, wearing a hospital ID and a patchwork of faded bruises. She calls herself Abilene, and though Nora and her friends offer work, shelter, and a supportive ear, their guest isn't ready to divulge her secrets. But when a customer is found dead in an assumed suicide, Nora uncovers a connection that points to Abilene as either a suspect—or another target.
 
Summer's end has brought other new arrivals to Miracle Springs too. Entrepreneur Griffin Kingsley opens Virtual Genie, a cyber business that unloads people's unwanted goods for cash. With the town in an economic slump and folks hurting for money, Virtual Genie and its owner are both instantly popular. A patient listener, Griffin dispenses candy to children and strong coffee to adults, and seems like a bona fide gentleman. But Nora's not inclined to judge a book by its cover. And when a second death hits town, Nora and her intrepid friends must help the new, greenhorn sheriff discern fact from fiction—and stop a killer intent on bringing another victim's story to a close.
How to Find More from Ellery Adams
Author Website | Goodreads | Twitter | Pinterest
Other books written by Ellery Adams (some originally released under different names)*
Book Retreat Mysteries, Books by the Bay Mysteries, Charmed Pie Shoppe Mysteries, Antiques and Collectibles Mysteries, and Hope Street Church Mysteries.
*As of this posting, I have read all of these and anxiously await any new installments 🙂