Vampire Knitting Club, #1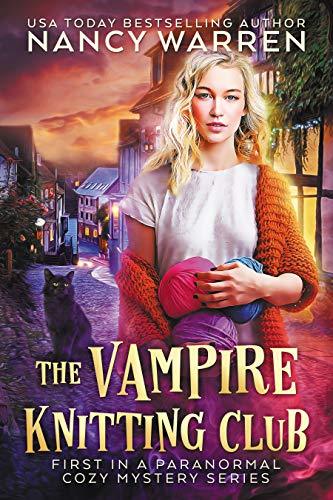 My Review
This story is about Lucy Swift who inherits her grandmother's yarn shop after her death. While she is told by some that her grandmother died of natural causes, she discovers otherwise when she meets her undying/undead (aka a vampire) grandmother. After that, and after meeting the vampire knitting club members, Lucy discovers her grandmother was murdered and the story revolves mostly around her trying to figure out why and who did it.
While I think this book had a lot of promise, there were just some things that didn't sit well with me. Sure, the book is about vampires and other things people don't generally believe exist, but the author just didn't get me to a state where I could completely fall into the story. Hard to say more without giving away a spoiler or two, so I won't. Also, Lucy had a way of "forgetting" or pushing aside pertinent information to focus on something else, and I just didn't find it very believable some of the time. Perhaps this is just because it is book one and there was a lot of background to give. I think I would have enjoyed it more if the book had been twice as long, giving the author more time to develop the plot. That said, I did like the characters and the mystery was very interesting. I like that the author left us with a lot of things to ponder on in regards to what may happen next – with Lucy's family, the vampire knitting club members, and the detective inspector who worked the case.
Goodreads Blurb
Vampires who knit
A troublemaking witch
Who killed Granny — and is she really dead?
At a crossroads between a cringe-worthy past (Todd the Toad) and an uncertain future (she's not exactly homeless, but it's close), Lucy Swift travels to Oxford to visit her grandmother. With Gran's undying love to count on and Cardinal Woolsey's, Gran's knitting shop, to keep her busy, Lucy can catch her breath and figure out what she's going to do.
Except it turns out that Gran is the undying. Or at least, the undead. But there's a death certificate. And a will, leaving the knitting shop to Lucy. And a lot of people going in and out who never use the door—including Gran, who is just as loving as ever, and prone to knitting sweaters at warp speed, late at night. What exactly is going on?
When Lucy discovers that Gran did not die peacefully in her sleep, but was murdered, she has to bring the killer to justice without tipping off the law that there's no body in the grave. Between a hot 600-year-old vampire and a dishy detective inspector, both of whom always seem to be there for her, Lucy finds her life getting more complicated than a triple cable cardigan.
The only one who seems to know what's going on is her cat … or is it … her familiar?
Where to Find More From Nancy Warren