Barking Detective, #4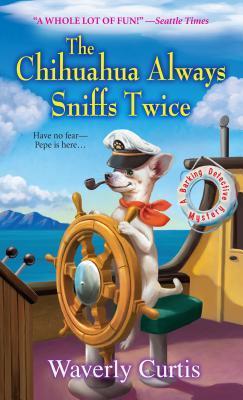 My Review
The MC, Geri Sullivan, is still a PI in training under Jimmy G. Geri is helped along by her talking (only to her) dog, PePe, a loveable and entertaining chihuahua. PePe pretty much steals the show but Geri is very likable and I find her love interest with Felix adorable. I also enjoy her boss, who talks about himself in the third person. He's an odd duck but his antics make me laugh (usually).
This mystery revolves around a woman who left her abundant estate to her dogs and their issue, rather than her children. Of course, this makes the adult children angry. So when people close to the situation start dying and the dogs are put in danger, it's easy to guess one (or all) of the children are the likely suspects. But, are they? The inheritance plan also included supporting people who care for the dogs. This provides plenty of suspects for PePe to sniff out 🙂
Normally Jimmy G stays in the office. But this time he gets involved too, and in a way that puts him at odds with Geri's work. We'll have to read the next book to find out if that puts a long-lasting wedge between him and Geri/PePe.
My only complaint(?) is one aspect having to do with Geri's therapist left me wondering what the point was about (why the author had them meet up later in the book). But maybe I was just tired while reading and missed something somewhere. In any event, it didn't distract from the mystery. It just left me, personally, with some questions.
I'd recommend this book to anyone who enjoys cozies with dogs. Geri and PePe are quite the duo and provide lots of fun adventures.
Goodreads Blurb
A whole lot of fun! —Seattle Times
I have the body of a Chihuahua, but the mind of a master sleuth.
Aspiring P.I. Geri Sullivan's new case has got her talking Chihuahua, Pepe, hot under the collar. Wealthy widow Lucille Carpenter left her entire fortune to her beloved dogs, and someone is trying to poison them. Anyone who would hurt a perro is lower than a Cucaracha in PePe's book. But when Geri and Pepe investigate, they discover that it's not just the coddled canines who are in danger. Now there are human targets too.
At the lavish Carpenter manor, Pepe digs for clues among the pampered pooches, bitter relatives, suspicious staff, and larcenous lawyers. But there's only one diminutive detective smart enough to save the day–and the dogs. . .
Praise for the Barking Detective Mysteries
This series is hilarious! The antics of Geri and her talking dog make the reader laugh out loud. —RT Book Reviews
Where to Find More From Waverly Curtis – A writing duo comprised of Waverly Fitzgerald and Curt Colbert