Chef-to-Go Mysteries, #1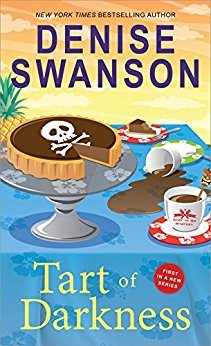 My Review
This is book 1 in the Chef to Go series. Dani is the MC. She inherited a mansion that had been destined to be a B&B. Now Dani uses it for her three-pronged business of personal chef, making to-go lunches for college students, and catering.
Instead of making it into a B&B, Dani decides to take in three college-aged women (Ivy, Tippi, and Starr) as permanent boarders instead. The girls had been Dani's customers in her lunches to go business. In addition to paying rent, they each also have weekly hours to help out with Dani's business.
The mystery begins when Dani is catering an event for a beautiful, rich, and spoiled brat who is a friend of one of the boarders. The hostess ends up yelling at Dani after the desserts get ruined. Later that evening, the hostess ends up dead so Dani ends up on the suspect list. The investigating officer is extremely unpleasant and looks to want to focus solely on Dani because he blames her for ruining someone's life when Dani was working for her former employer.
Dani, the boarders, and Ivy's uncle Spencer works to help clear Dani's name. The mystery is interesting and the various suspects kept me guessing until the end.
Dani is likable and the "girls" act age-appropriate for college kids. This provides for some frustration on Dani's part but, for the most part, they all get along very well. Spencer and Dani both are immediately attracted to each other so the budding romance is not hard to see coming.
I've already read book two and will likely continue this series. I haven't read any of the Scrumble River books, but I will likely get to reading those after these.
I can't figure out what tipped this book down a star, but something kept me from giving it 5 stars.
I'd recommend this book to anyone who enjoys cozies and doesn't mind hearing about a lot of cooking and menu selections. (This is not something that I mind) 🙂
Goodreads Blurb
Right when Dani thinks she's hit a dead-end in her career, she unexpectedly inherits an enormous old house in a quaint college town. This gives her the perfect opportunity to pursue her true passion—cooking! So Dani opens Chef-to-Go, preparing delicious, ready-made meals for hungry students attending the nearby university, as well as providing personal chef services and catering events for the local community. To help support her new business, she opens her home to a few students, renting them rooms and becoming almost like a big sister figure in their lives.
But just as Dani is relishing her sweet new life, the friend of one of her boarders is murdered, and Dani becomes one of the primary suspects! She'll have to scramble to clear her name and save her business before the killer reappears—perhaps to silence the new chef forever.
Where to Find More from Denise Swanson