Beyond the Page Bookstore Mystery #1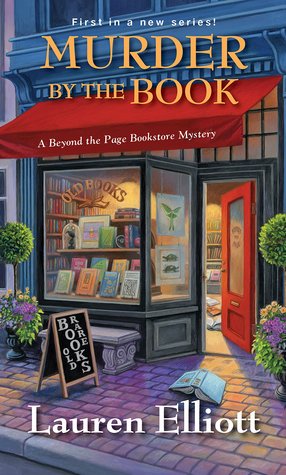 My Review
Addie Greyborne moved from Boston to Greyborne after her great aunt Anita leaves Addie her estate. Addie was her only heir. Prior to moving to Greyborne, Addie had lost both her father in a car crash and her fiancé, David, who was murdered. She was still mourning their deaths.
In Boston, Addie had worked with rare books at the Boston Public Library. In Greyborne, she opens a used and rare book store, using books she inherited from Anita.
From the beginning, a lot happens quite quickly. Addie almost gets run down, there is a break-in at her bookstore, and it is soon obvious that something big is going on. The action is pretty non-stop throughout the story. This is intertwined with the back stories about Addie, her father, David, and Anita. Along with being introduced to many townspeople in Greyborne, there is almost too much going on.
Addie makes friends and enemies at a rapid-fire pace. She becomes instant best friends with Serena, the tea shop owner next door. Yet the owner of the bakery on the other side, Martha, is instantly cold to her and sets out to ruin her. Then, later, Addie hires Martha's niece to work at her bookstore without any prior connection to her.
Addie is able to get more involved with the police during the investigation of the mystery than I normally see in cozies. Marc, Serena's brother, and the Chief of Police vacillate between trying to get Addie to stay out of the investigation and outright encouraging her involvement at other times.
The murders and the mystery itself were interesting to uncover and see how all the pieces fell into place. I was guessing until the end.
Although some of the above sound a bit negative, I did enjoy the book. I really enjoyed the descriptions of Addie's shop and the mansion, as well as the books Addie encounters. I look forward to getting to know more of the townspeople in future installments of the series.
I received an advanced digital copy of Murder By the Book by Lauren Elliott from NetGalley and Kensington Books in exchange for an honest review.
Goodreads Blurb
Addie Greyborne loved working with rare books at the Boston Public Library—she even got to play detective, tracking down clues about mysterious old volumes. But she didn't expect her sleuthing skills to come in so handy in a little seaside town . . .
Addie left some painful memories behind in the big city, including the unsolved murder of her fiancé and her father's fatal car accident. After an unexpected inheritance from a great aunt, she's moved to a small New England town founded by her ancestors back in colonial times—and living in spacious Greyborne Manor, on a hilltop overlooking the harbor. Best of all, her aunt also left her countless first editions and other treasures—providing an inventory to start her own store.
But there's trouble from day one, and not just from the grumpy woman who runs the bakery next door. A car nearly runs Addie down. Someone steals a copy of Alice in Wonderland. Then, Addie's friend Serena, who owns a nearby tea shop, is arrested—for killing another local merchant. The police seem pretty sure they've got the story in hand, but Addie's not going to let them close the book on this case without a fight.
How to Find More from Lauren Elliott