Bibliophile Mystery, #15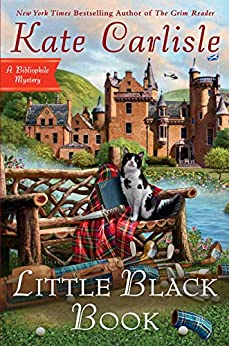 My Review
Sadly this is currently the last book in the Bibliophile Mystery series and I am all caught up. Happily, I have enjoyed every book in the series. [Edit: I wrote this review right after this book came out, so the Paper Caper had not been released yet :)]
The MC, Brooklyn Wainwright, is an expert in rare books and repairing them. She also creates her own books, book boxes, designer papers, and other art made of paper. In this book, she is creating an origami mobile for her brother and her best friend's baby on the way. I always love hearing about her projects.
The mystery begins when Brooklyn's husband Derek Stone receives a rare copy of Rebecca in the mail from someone in Scotland. Shortly after the book's arrival, a woman named Claire who Brooklyn met in a former book while working on a show similar to the Antiques Roadshow arrives at Derek's house (not realizing Brooklyn also lives there and is now married to Brooklyn). The blurb listed on Goodreads for this book says the book came to Brooklyn from Claire asking her to repair it, in the audiobook version this book came from Claire's aunt in Scotland and was sent to Derek. So I'm not sure why there is this discrepancy. Perhaps I have just lost my mind 🙂
When Claire enters the story, it is after she had discovered her aunt in Scotland missing and Claire has two scary encounters with men she thinks are trying to hurt her. Claire coming to Derek and Brooklyn's home puts them on the radar of the men after Claire and shortly after dead bodies begin to get found by the trio.
The mystery takes the trio from San Francisco to Dharma (Brooklyn's hometown in wine country), then to Scotland. Along the way, many of the recurring characters from past books come into the story so we get to hear more from some of Brooklyn and Derek's friends and family before they head off to Scotland.
The mystery was interesting with several twists. I pegged the wrong person as the person behind all the trouble, but I actually prefer when that happens so long as it makes sense. This one did, so no complaints 🙂
I would recommend this book to anyone who enjoys cozies, especially if they have an interest in gothic novels since Brooklyn and Claire both enjoy them and discuss them in this book.
Goodreads Blurb
San Francisco book-restoration expert Brooklyn Wainwright is on the case when a rare edition of Rebecca leads to murder in this latest installment in the New York Times bestselling Bibliophile Mystery series.
Brooklyn has been happily settling into married life with her hunky husband, security expert Derek Stone, when a little black book arrives in the mail on a quiet Saturday afternoon. The book is a rare British first edition of Rebecca, and inside, Brooklyn finds a note from her old friend Claire Quinn, asking her to restore it to its former luster. The two women met while working as expert appraisers on the television show This Old Attic. Brooklyn appraised books on the show and Claire's expertise was in antique British weaponry, but they bonded over their shared love of gothic novels.
The day after the book arrives, Claire shows up at Brooklyn and Derek's home–in disguise. She believes her life is in danger, and as soon as Derek sits her down and questions her, Claire reveals that in the last few weeks she has experienced two near-fatal attacks, along with weird notes left in her mailbox, hang-up phone calls, and one very scary car chase. She's afraid that her past is catching up to her. When Claire was only nine years old, she witnessed several men, one of whom was her father, planning a terrible crime. And now it seems that she's been followed, bringing the threats against her literally to Brooklyn's doorstep. Can Brooklyn page through the clues to keep her friend's past from destroying their future?
Where to Find More from Kate Carlisle