Bread Shop Mysteries, #1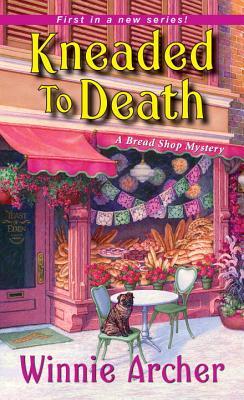 My Review
This is the first book in the Bread Shop Mystery series. The main character, Ivy Culpepper, has returned to her hometown of Santa Sofia. She takes bread-making classes at Yeast of Eden with Olaya, the owner, along with Olaya's sisters and some other women from town.
When one of the other bread-making students dies, Olaya and her sisters become the main suspects, but Ivy doesn't believe them capable so she begins searching for other suspects. Her search leads her down the path toward uncovering a mystery from her own past as well.
I enjoyed all the characters who take classes at Yeast of Eden and loved hearing about all the bread-making. The recipe for conchas is at the end of the book and I intend to try to make those this weekend.
Ivy ends up meeting up with her long-lost love for high school, Miguel, who has also returned to Santa Sofia, and I look forward to hearing more about their relationship and hoping it develops. I guess I'm just in a mood to see a possible love match rekindle and, hopefully, become more. I liked their chemistry.
I really loved Mrs. Branford.  A spry 87-year-old. Ivy said a few times that she wanted to be as lively as Mrs. Branford when she gets to 87, and I agree. She was a fun character that I really enjoyed.
The mystery was interesting and twisted just enough to keep me guessing until the end.
I'd recommend this cozy to anyone who likes to eat or bake bread and doesn't mind non-English (here, Spanish) words interspersed in their reading without always getting clues from the context as to what was said. I was able to understand 95% of it, so it didn't bother me. I rather enjoyed it, actually.
I'm looking forward to the next book in the series.
Goodreads Blurb
Everyone swears by Yeast of Eden, the Mexican bread shop in town. But tonight, the only thing on the menu is la muerte . . .
Struggling photographer Ivy Culpepper has lots of soul-searching to do since returning to seaside Santa Linda, California. That is, until the thirty-one-year-old enters a bread making class at Yeast of Eden. Whether it's the aroma of fresh conchas in the oven, or her instant connection with owner Olaya Dias and her sisters, Ivy just knows the missing ingredients in her life are hidden among the secrets of Olaya's bakery . . .
But Ivy's spirits crumble when a missing classmate is suddenly discovered dead in her car, riddled with stab wounds. Even more devastating, the prime suspects are the Dias sisters themselves. Doubting the women could commit such a crime, Ivy embarks on a murder investigation of her own to prove their innocence and seize the real killer. As she follows a deadly trail of crumbs around town, Ivy must trust her gut like never before—or someone else could be toast!
Where to Find More from Winnie Archer (a pseudonym of Melissa Bourbon)
Author Website | Goodreads | Facebook (for Winnie Archer & Melissa Bourbon books
As Melissa Bourbon, she also writes the following cozy series: A Magical Dressmaking Mystery and Book Magic Mysteries.