A Colorado Wine Mystery, #1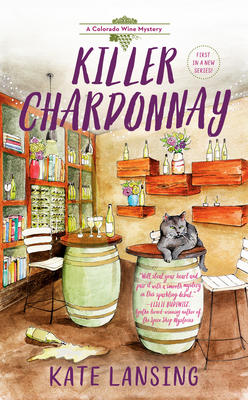 My Review
Parker Valentine's dream of opening her own winery has finally come to fruition, unfortunately, this was after her aunt Laura had passed away. Laura had always supported Parker emotionally and financially in pursuing her dream.
Parker's winery is named Vino Valentine and is located in Boulder, Colorado where Parker lives. Parker is surprised when Gaskel Brown, a popular food and wine blogger, shows up for the winery's opening night. Other notable attendees are Moira and Carrick Murphy who owns another local winery as well as Reid Wallace, an executive chef from another local restaurant. Parker's friends, friends of friends, and her brother Liam also attend, but her parents opt not to come.
During the event, Gaskel Brown begins to show signs of not feeling well and heads to the restroom. While he's in there, Parker takes the opportunity to read his notes on the review of her winery. The results are Parker's worst nightmare since he hates her wine. Things get worse when Gaskel never returns from the restroom and Parker ends up finding him dead on the restroom floor from an apparent poisoning.
Parker is a prime suspect, of course, since he had just been eating and drinking in her restaurant. Another possible suspect emerges from the police's perspective, Parker's brother Liam. Parker sets off to try to determine what happened to save her winery's reputation and her brother's innocence.
There are a lot of options for possible suspects. It made following along with Parker's investigation interesting and kept me guessing as she unraveled everyone's backstory and connections.
My favorite part of the book was Parker's relationship with her brother and, albeit less significantly, her parents. I liked that their relationships seemed believable. The love was there but they also had their own difficulties with each other.
I did also enjoy the wine references, especially the ones involving the wine-making process and how particular flavors get brought out in the wine. 
I'll be looking forward to reading the second book in this series.
I received an advanced digital copy of this book via NetGalley and Berkley Publishing Group in exchange for an honest review.
Goodreads Blurb
A young winery owner won't let one sour grape ruin the bunch in the first installment of this exciting cozy mystery series.
Parker Valentine has always dreamed of opening her own winery in her hometown of Boulder, Colorado. But she gets more than she bargained for when a food and wine critic unexpectedly shows up at Vino Valentine on opening day. A negative review could be fatal for her business, and not only does he seem to hate her chardonnay, he also collapses and dies shortly after drinking it.
Although Parker hoped that the attendees would put a cork in it, soon her winery is at the center of a social media firestorm. With #killerchardonnay trending online, Parker's business is in danger of closing, and she has no choice but to investigate the murder herself.
To restore her reputation, catch a killer, and keep her struggling business open, Parker needs only one thing: some good proof.
Where to Find More from Kate Lansing