Bibliophile Mystery, #1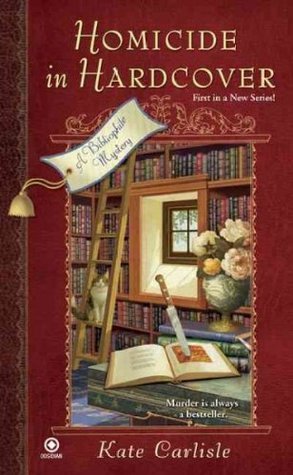 My (short) Review*
This book is about Brooklyn Wainwright, a rare book expert and book restorer.  After a falling out with her mentor, they meet again the night he dies.  While working to discover how he died, we meet her friends and family and learn about how Brooklyn grew up, and about the world of rare book restoration.
One thing I really liked about this book was learning about Brooklyn's upbringing in a commune.  I also found it fascinating to hear about how books are restored and a bit of background about book collections on display at a museum.  A few of the characters were very memorable and I look forward to hearing more about them in the next book.
I would recommend this to my friends who like books about books.
Goodreads Blurb
Book expert Brooklyn Wainwright discovers that murder is always a bestseller in the first novel in the New York Times bestselling Bibliophile Mystery series.
Brooklyn Wainwright is a skilled surgeon. Sure, her patients might smell like mold and have spines made of leather, but no ailing book is going to die on her watch. The same can't be said of Abraham Karastovsky, Brooklyn's friend and former employer.
On the eve of a celebration for his latest book restoration, Brooklyn finds her mentor lying in a pool of his own blood. With his final breath Abraham leaves Brooklyn with a cryptic message, "Remember the Devil," and gives her a priceless—and supposedly cursed—copy of Goethe's Faust for safe-keeping.
Brooklyn suddenly finds herself accused of murder and theft, thanks to Derek Stone, the humorless—and annoyingly attractive—British security officer who found her kneeling over the body. Now she has to read the clues left behind by her mentor if she is going to restore justice.
Where to Find More from Kate Carlisle
Author Website | Goodreads | Twitter | Facebook
Kate Carlisle also writes the Fixer-Upper Mysteries series. I have not started this series yet, even though I very much enjoy cozies about said topic.
* I have since read this entire series up through The Paper Caper (#16)
It has become one of my favorite series.