Chloe Jackson, Sea Glass Saloon Mystery, #1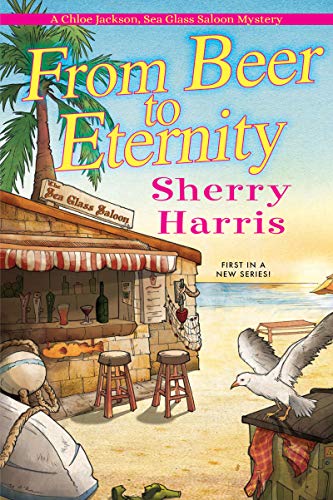 My Review
Chloe Jackson ends up in Emerald Cove, Florida from Chicago after her best friend Boone dies in Afghanistan. Prior to Boone leaving the military, he made Chloe promise to go help his grandmother Vivi at the Sea Glass Saloon if something happens to him. The caveat is that she doesn't tell Vivi that Boone asked her to.
Chloe was expecting Vivi to be older and less self-reliant, but she was wrong. So why did Boone want her to be there? As the story unfolds, we begin to understand that Boone may have wanted Chloe there as much (or more) for Chloe's sake than Vivi's.
The characters are well thought out with interesting backstories. Throughout the read, we begin to learn more about Chloe, Vivi, and Boone as well as some of the regulars. The Sea Glass is part of a group of historical businesses that have been operating on the Emerald Cove for decades. The long history of the locals slowly begins to reveal itself while Chloe investigates after one of those business owners is killed outside the Sea Glass with one of Vivi's knives. Needless to say, that puts Vivi on the top of the suspect list.
The mystery was well thought out and enjoyable, but the better part was just getting to know the characters and watching them develop as the pages turned. It was also fun to see the development of Vivi and Chloe's relationship (and the other locals). Rhett is a local who is in a family with a long-running feud with Vivi's family, but that doesn't keep Chloe from being interested in him despite her resolution to not get caught up in any romance.
Joaquin, the bartender at the Sea Glass, and another local Ann Martin(?) are also interesting characters. Chloe gets told Ann is a "fixer" which Chloe takes to mean Ann is a handywoman and starts telling Ann when she has problems around her place to fix. The fact that Ann arranges to have Chloe's problems fixed adds to the intrigue in determining whether Ann is a good character from Chloe's perspective or not.
I also enjoyed hearing information about the Florida panhandle since it is an area I do not know much about. I look forward to learning more throughout this series.
Goodreads Blurb
With Chicago winters in the rearview mirror, Chloe Jackson is making good on a promise: help her late friend's grandmother run the Sea Glass Saloon in the Florida Panhandle. To Chloe's surprise, feisty Vivi Slidell isn't the frail retiree Chloe expects. Nor is Emerald Cove. It's less a sleepy fishing village than a panhandle hotspot overrun with land developers and tourists. But it's a Sea Glass regular who's mysteriously crossed the cranky Vivi. When their bitter argument comes to a head and he's found dead behind the bar, guess who's the number one suspect?
 
In trying to clear Vivi's name, Chloe discovers the old woman isn't the only one in Emerald Cove with secrets. Under the laidback attitude, sparkling white beaches, and small town ways something terrible is brewing. And the sure way a killer can keep those secrets bottled up is to finish off one murder with a double shot: aimed at Chloe and Vivi.
Where to Find More from Sherry Harris