Birds of a Feather, #4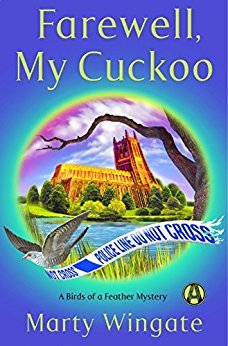 My Review
This book brings us back into the life of Julia Lanchester, who works for the Travelers Information Center (the T.I.C.) at Smeaton-under-Lyme, Suffolk.  Julia's father is a famous TV show-ornithologist, so there are plenty of birdwatching, birder, and bird-related references throughout this book.  Julia used to work for her dad's show but she moved on.  Now her boyfriend, Michael, is her dad's assistant. 
Julia's job is on Lord Fotheringill's estate and most of the reoccurring characters are either people that live or work there.
This book begins with a wedding and then continues throughout with speculation on whether Julia and Michael will get engaged.  You'll have to read to find out.  One big hiccup in these plans is Michael's sister who shows up at their doorstep and needs a place to stay for a while.  There are other "love is in the air" plots going on as well, which aren't usually my favorite but I enjoyed them all here. 
The mystery revolves around a body found by Willow, one of Julia's friends, in a pond.
There are plenty of visitors to the estate and some who are regulars who make decent suspects for the death.  I found all the various background stories of the "possible" suspects intriguing and very well done.  They each have a depth to them and the author brings their respective stories around to the reader with great timing. 
I have read all four books in this series so far and have enjoyed them all. I thought this one was done especially well. I would recommend this book to cozy mystery readers who enjoy birds/nature, and who enjoy a good drama about people relating to other people.
Goodreads Blurb
Julia Lanchester is winging it once again in the new Birds of a Feather mystery from the USA Today bestselling author of Every Trick in the Rook!
 
"Marty Wingate's Birds of a Feather mysteries provide a perfect blend of quirky characters and atmosphere. These solid traditional cozies deliver a fabulous setting, lots of birding, intriguing bird lore, and complex whodunits with contemporary themes. Add the marvelous mysteries of this wonderful series to your life list."—Christine Goff, bestselling author of the Birdwatcher's Mystery series
Where to Find More From Marty Wingate
Author Website | Goodreads | Twitter | Facebook
Marty Wingate also writes the following mystery series: Potting Shed Mysteries and First Edition Library Mysteries.