Amelia Peabody Mysteries, #1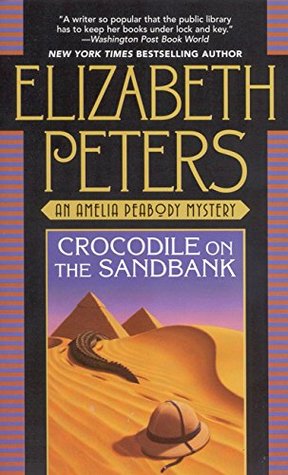 My Review
Amelia Peabody is our MC. She is a strong female character, who is independently wealthy. The story is set in the late 1800's. Amelia is 32 and unmarried. After deciding to go to Egypt and her first choice as a companion backs out on her, she met and helped Evelyn, then offered to take Evelyn along with her.
This cozy was different for me mainly because it was set in Egypt and involved archaeology and Egyptology.  It was interesting to hear about the locals they encountered there and what they learned about the discoveries of relics, tombs, and events in Egypt's history.  The author did a great job of describing the scenes to give a good picture of what being there may have been like. 
On their travels, the women meet Radcliffe Emerson and his brother, Walter. I very much enjoyed the banter between Amelia and Radcliffe, who very much enjoyed giving each other a hard time. While that isn't my cup of tea in a relationship, I did find their encounters entertaining.
I wasn't as fond of Evelyn, but mainly because I found her tiresome in berating herself over her past.  I suppose in the late 1880s, I may have understood her take on it better.  That said, if she is in future books, I suspect I will come around to her after the things that occur in the book.
I would recommend this to friends who enjoy history, travel, foreign cultures, or Egypt, specifically. 
Goodreads Blurb
Amelia Peabody inherited two things from her father: a considerable fortune and an unbendable will. The first allowed her to indulge in her life's passion. Without the second, the mummy's curse would have made corpses of them all.
Overdrive.com Blurb
Set in 1884, this is the first installment in what has become a beloved bestselling series. At thirty-two, strong-willed Amelia Peabody, a self-proclaimed spinster, decides to use her ample inheritance to indulge her passion, Egyptology. On her way to Egypt, Amelia encounters a young woman named Evelyn Barton-Forbes. The two become fast friends and travel on together, encountering mysteries, missing mummies, and Radcliffe Emerson, a dashing and opinionated archaeologist who doesn't need a woman's help — or so he thinks.
How to Find More from Elizabeth Peters, who also wrote books as Barbara Michaels as well as her real name, Barbara Mertz.