Witch Cats of Cambridge #1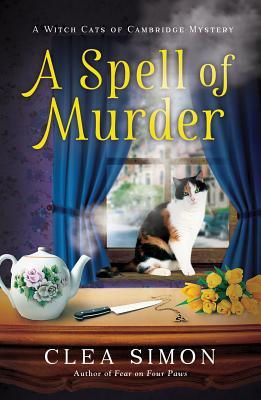 My Review
Becca lives with her three cats (Clara, Harriet, and Laurel). Becca is unemployed and recently broke up with her boyfriend. Becca also recently joined a coven.
The three cats each have distinctive personalities and it was fun getting to know them while their human, Becca, worked through the mystery and other problems she faces in the book. Also, Becca and the cats have an interesting back story/genealogy, which I am looking forward to hearing more about in future installments.
The coven members were interesting, but I was left with a few questions and did not feel like I really know any of them very well. This may have been a result of the plot itself though and, depending on who the next mystery is centered around, I think I will enjoy some of them more in the next book.
Although I knew prior to reading the book that there would be magic and cats in this delightful cozy, I didn't note the part about the cats being magical. Nor did I realize it would be written from the cats' point of view. I was very pleasantly surprised, especially with the latter.
I would recommend this cozy to lovers of cats. Especially people, like me, who regularly make up what my cats might be thinking, much like I used to do with dolls as a kid.
I received an advanced digital copy of A Spell of Murder by Clea Simon from NetGalley and Kensington Books in exchange for an honest review.
Goodreads Blurb
"It's Harriet's fault. It's always her fault, not that she'll ever admit it." So begins A Spell of Murder: A Witch Cats of Cambridge mystery, the first in a new cozy series that mixes feline fiction with a touch of the paranormal, and a little romance as well.
Becca, newly single and newly unemployed, wants to believe she has psychic powers. With nothing but time – and a desire for empowerment – she's studying to become a witch. What she doesn't know is that her three cats – Harriet, Laurel, and Clara – are the ones with the real power. And when Harriet – "a cream-colored longhair with more fur than commonsense" – conjures a pillow for her own comfort, Becca believes her spells are finally working. Could that be why Trent, the coven's devilishly handsome leader, has been showing her special attention? Or why Suzanne, a longtime coven member, draws her aside to share a secret – a confidence that may lead to murder?
How to Find More from Clea Simon
Author Website | Goodreads | Facebook | Twitter | Instagram