Witch's Cat Mystery, #1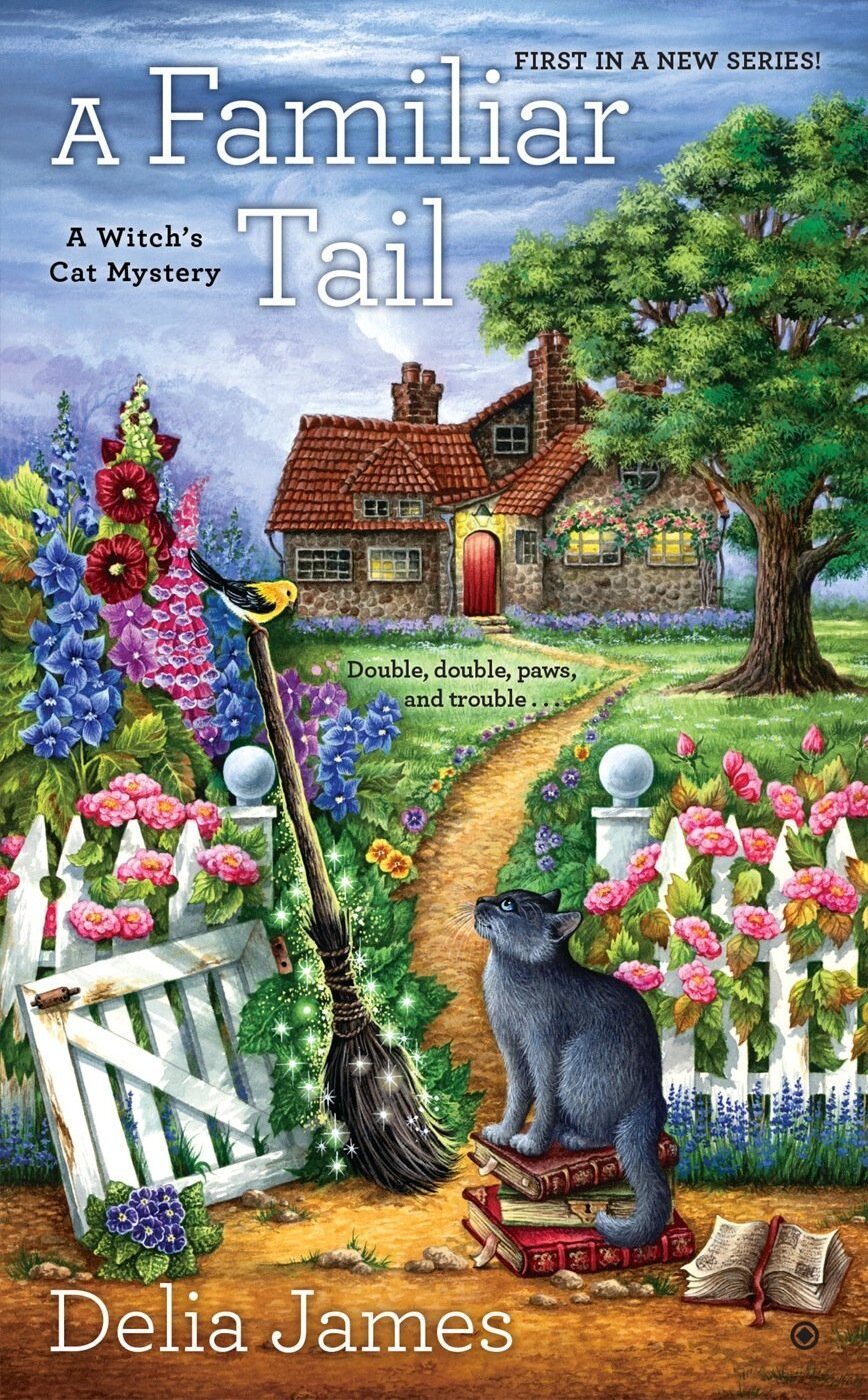 My Review
The MC in this book is Annabelle Britton, an artist, who travels from Boston to Portsmouth, New Hampshire to visit her friend Martine, a chef.  Soon after arriving in town, she meets a grey cat named Alistair outside Martine's cafe, who she later finds out is her familiar.  Alistair is a local legend known to most of the town as the "ghost cat of Portsmouth", but no one had been able to touch him since his owner, Dorothy Hawthorne, died six months before because he would disappear.   The first time he disappears in front of Annabelle, she was pretty freaked out.  Although Annabelle has gotten "vibes" before about many places, she never considered it a magical ability or that she might be a witch. 
During her stay in Portsmouth, Annabelle stays at McDermott's B&B. After checking in, Alistair shows up again outside her window, then a second time outside on the backyard's back fence. Annabelle goes out to see him and ends up following him all the way into the neighbor's house and into the basement. There her "vibe" kicks in and she discovers someone was murdered there. It was Dorothy, Alistair's former owner.
After meeting Frank, Dorothy's son, she offers to help find out what happened to Dorothy.  During the search for truth, Annabelle discovers a lot about her own personal family's history in Portsmouth as well as discovers the local coven and that she is a witch.
I really liked Annabelle, Alistair, the McDermotts, and the members of the coven.  They all had their own personalities and I found myself growing fond of them all.
I also enjoyed the author's voice and how she communicated the story and unraveled the mystery to us.
I would recommend this cozy to anyone who enjoys mysteries involving cats and paranormals.
Goodreads Blurb
Magic and meows meet in the first enchanting Witch's Cat mystery!

Unlucky-in-love artist Annabelle Britton decides that a visit to the seaside town of  Portsmouth, New Hampshire, is the perfect way to get over her problems. But when she stumbles upon a smoky gray cat named Alastair, and follows him into a charming cottage, Annabelle finds herself in a whole spellbook full of trouble.
 
Suddenly saddled with a witch's wand and a furry familiar, Annabelle soon meets a friendly group of women who use their spells, charms, and potions to keep the people of Portsmouth safe. But despite their gifts, the witches can't prevent every wicked deed in town….
 
Soon, the mystery surrounding Alistair's former owner, who died under unusual circumstances, grows when another local turns up dead. Armed with magic, friends, and the charmed cat who adopted her more than the other way around, Annabelle sets out to paw through the evidence and uncover a killer.
How to Find More from Delia James