A Bad Luck Cat Mystery, #4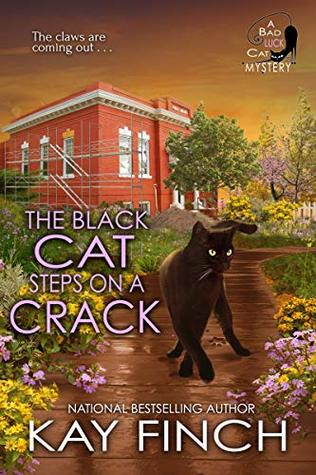 My Review
The fourth installment in the Bad Luck Cat Mystery series takes us back to Sabrina Tate's life in Emerald Springs and the Around-the World Cottages owned by her aunt Rowe.
All the regular characters show up, including Glenda and Thomas who work at the cottages, Sheriff Crawford, Deputy Rosales, Tyanne (Sabrina's best friend), and others from town. And, of course, Sabrina's cat Hitchcock, the bad luck cat.
All is well until the energetic new librarian, Jane Alcott is found dead at the construction site for the new library, where she had been driving all the construction workers nuts.
There's also lots of action going on at the cottages. The Crop Shop Crew is staying there, a group of scrapbookers who are documenting their adventures for their bucket list-themed scrapbooks.
The main mystery is interesting and had some fun twists. Hitchcock is super helpful in helping find clues for Sabrina to discover. There are a few storylines intertwined that keep the book moving along and winding its net around possible suspects for the murder and other things going on around Emerald Springs.
All in all, it was a well-plotted read with well-developed characters. I'd recommend it to any cozy readers looking for some chuckles and a delightful mystery.
I haven't had a chance to make any of the recipes in the back of the book but they sound delicious. I received an advanced digital copy of The Black Cat Steps on a Crack by Kay Finch from NetGalley and Beyond the Page Publishing in exchange for an honest review.
Goodreads Blurb
Sabrina Tate and her cat, Hitchcock, must sort through the clues when a librarian is killed and justice is overdue . . .
With construction on the town's new library nearing completion, mystery writer Sabrina Tate is thrilled that local book lovers, and her own forthcoming novel, will soon have a fresh new home. But tensions are rising at the site as the headstrong new librarian insists on telling the construction crew how to do their jobs, bringing work to a standstill. When Sabrina's cat unearths the dead body of the librarian not long after—and a good friend's husband is named as the main suspect—she finds herself being pulled into a murder investigation yet again.
While virtually all the workers at the site had a motive to commit the dark deed, Sabrina turns her attention to the victim's background looking for clues, but hits a dead end when she can't locate any of the woman's family. As a string of planted evidence and a murky collection of malicious characters starts to surface, Sabrina knows she and Hitchcock will have to tread carefully, before the library killer decides to check them out for good.
Where to Find More from Kay Finch