Lighthouse Mystery Series, #5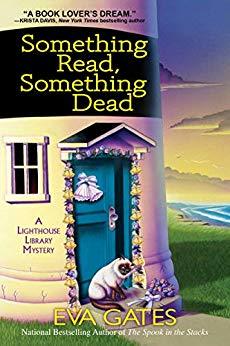 My Review
In this book, the fifth in the Lighthouse Mystery series, we return to Lucy Richardson's life in Nags Head, North Carolina. It's wintertime on the Outer Banks and Lucy is trying to help with arrangements for her cousin Josie's wedding.
Josie and her fiancé Jake want to keep the wedding small and on a budget. A plan is made to give them what they want. However, as with too many weddings, people step in with their suggestions and try to command the wedding planning ship. This time it is the "Louisiana Mafia" – Josie's grandmother Gloria, aunt Mary Anna and her cousins "maneater" Mirabelle and Florence. Gloria and Mirabelle, mainly, have their own grand and expensive ideas about planning Josie's wedding and sparks begin to fly. Toss in Jake's ex Toni coming to town to try to win him back, an employee of Josie's on the brink of getting fired, and Mirabelle also flirting with the groom, there is plenty of action taking place.
When Mirabelle dies after turning ill at the bridal shower, Lucy is back on the "job" of trying to figure out a whodunnit – and – keep Josie's wedding plans on track.
There was no shortage on the list of people who may have done in Mirabelle. By the end, I was suspecting almost a handful of people. One of which was right, but for the wrong reason. The twists were fun and kept me guessing until the end. Eva Gates did a great job of pulling me into the feelings of everyone in the story.
Although she was a domineering pain in the backside, I did enjoy grandma Gloria but was just glad she was not in my family.  Her antics had me both cringing and chuckling at times.  I could also understand (but not condone the extent of) her desire to meddle in her only granddaughter's wedding. 
As always, I loved hearing about the Outer Banks and its environment.  Having only been there once around Christmastime, when it was freezing, the author really brought me back there with her descriptions of life on the Outer Banks in wintertime (although I missed the snow).  I chuckled every time she mentioned birds or birdwatchers since that was what we went there to do.  It was not for the faint of heart.  The chilling wind blowing off the waters around the island is no joke. 
I would recommend this cozy to mystery lovers who enjoy a good dose of family drama along with their murder mysteries.
I received an advanced digital copy of Something Read, Something Dead by Eva Gates from NetGalley and Crooked Lane in exchange for an honest review.
Goodreads Blurb
Dark deeds in the Lighthouse Library threaten to send Lucy Richardson's soon-to-be-wed cousin Josie to an early 'til-death-do-us-part in national bestselling author Eva Gates' fifth Lighthouse Library mystery.
Where to Find More from Eva Gates (which is a pseudonym of Vicki Delany)
Author Website | Goodreads (Eva Gates) | Goodreads (Vicki Delany)
As Vicki Delaney, she writes the following series: Sherlock Holmes Bookshop Mysteries, A Year-Round Christmas Mysteries, Constable Molly Smith mysteries, Tea by the Sea Mysteries, and A Catskill Summer Resort Mysteries.